The NICU Nursing Module (NNM) is an innovative software tool used to support the patient documentation needs of a Neonatal Intensive Care Unit.  It combines comprehensive clinical data with a powerful database and a friendly graphical user interface to assemble patient documentation – all guided by individualized user preferences and templates.  NNM is a multi-discipline tool which can be used by any clinician or consultant treating NICU patients.  It was designed by and for clinicians working in the Neonatal Intensive Care Unit.
The Nursing Flowsheet is the core of the NICU Nursing Module. 
It is used to track the hour-by-hour activities of nursing care. Typical flowsheet data such as IVs, vitals, monitors, intake, output, assessments, nursing care, wound/line care, environment, parent interactions, cardio-respiratory events, and O2 therapy can be tracked.  Typical calculations for fluid totals, calories, GIR, and output are done automatically. 
The nursing flowsheet is fully user-customizable.  Selection options are determined by the user and data fields can be added or removed from the flowsheet as needed at your site.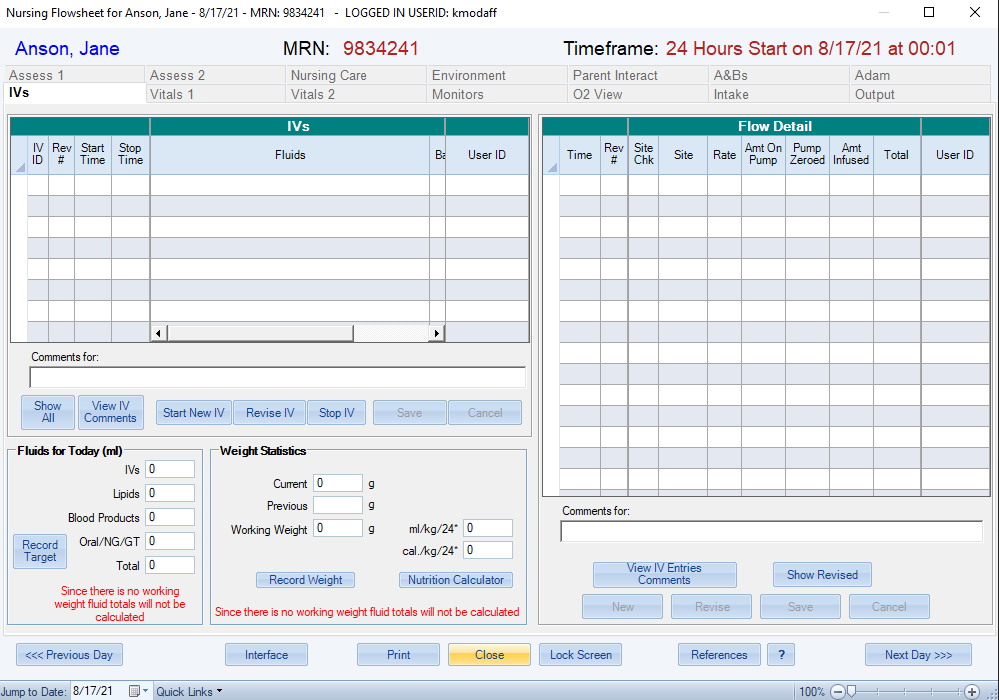 Nursing Progess Notes & Care Plans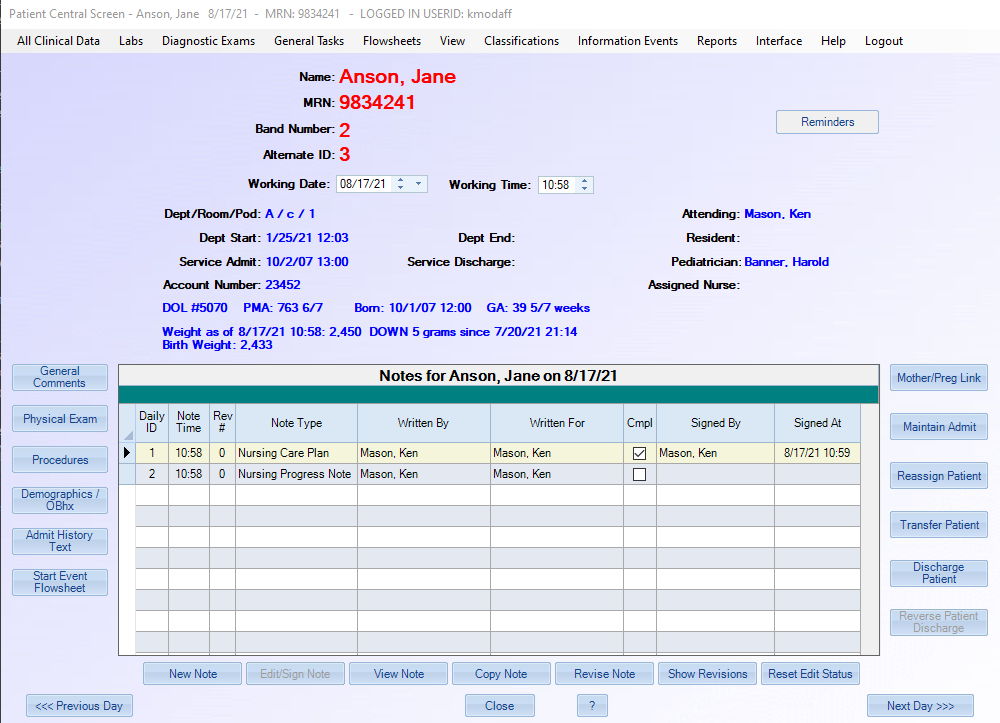 Neonatal Notes Manager significantly reduces the time required to collect data and develop patient notes.  Data can be entered using the intuitive data entry screens or loaded automatically through the HL7 interface. The resulting notes are clear, complete and legible.
The clinician builds a patient note by simply selecting, through drag-and-drop, the high-level outline of the note.    The outline of the note can be problem-based, system based, or in any other format preferred by the practitioner.     Based on the outline topics selected, NNM automatically retrieves the appropriate clinical data for inclusion on the note.    Additional comments can be added through drag-and-drop selections of frequently-used comments that are specific to the individual practitioner and the current outline topic.
 Previous notes can be copied and used as a basis for a current note.  In addition, user-defined templates can be used to automatically generate a note outline, or re-arrange an existing note outline.   The copy function and use of templates make it even faster to develop a comprehensive note.
NNM provides a flexible General Tasks feature to track patient management that cannot be easily tracked using a typical data entry screen.
Single Task
This type of General Task is used to track a single task or activity completed by a single clinician, such as infant care instruction, CPR training, certain assessments, and even governmental reporting.
Checklist
This type of General Task is used to track an activity that has multiple steps that may be performed over an extended period of time, such as parent education and nursing care plans.
Score Tree
This type of general task is typically used as an assessment tool.  As individual items are checked, a total score for each category is tallied. Scores from each category are then combined into an overall rating.  The Finnegan Neonatal Abstinence Score tool provided in NNM is an example of a complex scoring tree.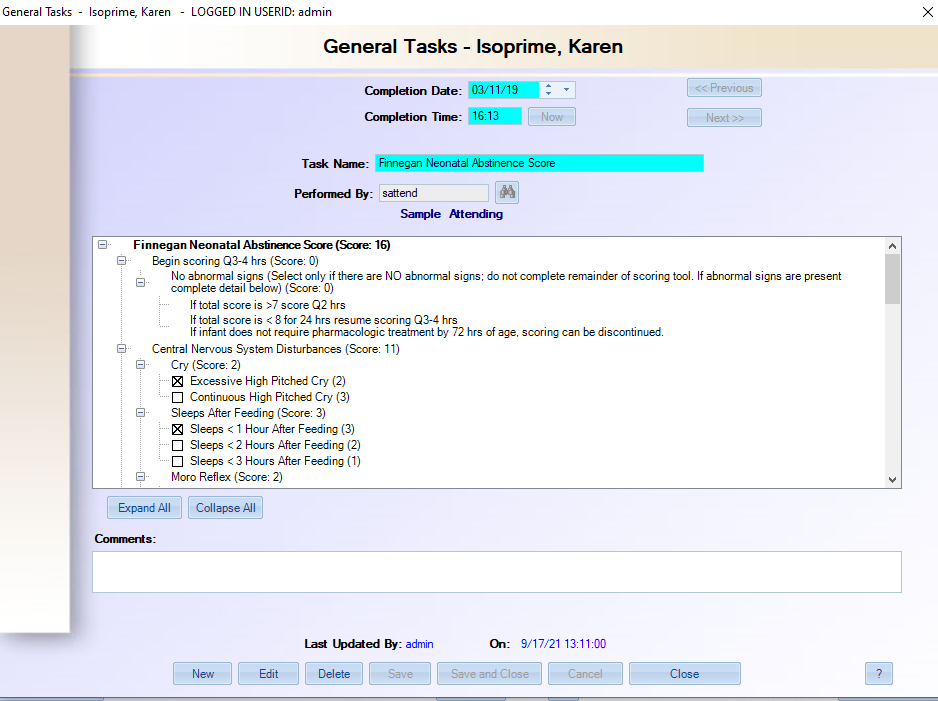 Perinatal History, Maternal Risk Factors, Lab Results, Immunization History, and everything else you need to know about the patient can also easily be tracked.  NNM includes:
A robust reminders feature to help you remember important TO DOs
A reminder rule processor that will automatically generate reminders based on clinical data about the patient
HL7 Interfaces to receive and send information
A Crystal Reports designer integrated into the system to provide powerful custom user reporting
Extensive system customization options to meet both current and future needs
Contact Us with more questions, or to request an online demo of the software.